AFFORDABLE EXECUTIVE TRAVEL
Now at LA Corporate Limo you can get some of the best executive transportation perks and business rates in the entire region. LA Corporate Limo is the perfect choice for your corporate transportation needs whether for business meetings, corporate event, employee commute or luxury executive transportation.
At Los Angeles Corporate Limousine we have a fleet of luxurious stretch black limousines, executive sedans, SUVs, vans, mini buses, shuttles and more to suite every need and accommodate up to 300 passengers per day.
At corporatelimola.com Our objective is to give you our 100%. We always make sure that our clients get great offers and discounts. For more information, a corporate account application, business rates and reservations, please call 1-818-765-7243.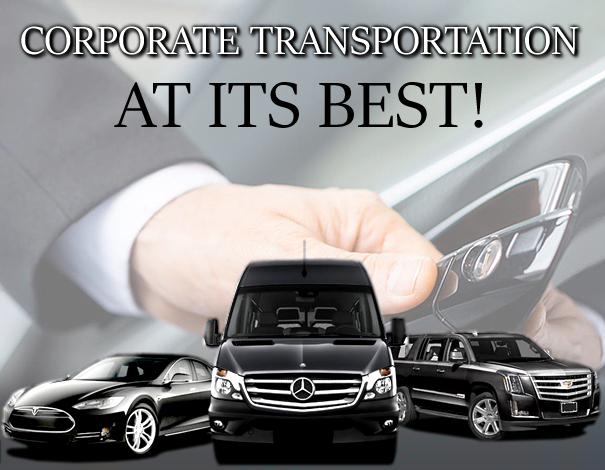 Los Angeles Corporate Transportation
Since 1994, we've extended our services to providing corporate clients and executives with the safest & most reliable luxury Corporate transportation in Los Angeles & southern California. Los Angeles Corporate Limo is fully licensed, insured and bonded. Each driver is carefully screened; which includes a background check, and ongoing drug and safety testing per DMV and Public Utilities Commission requirements. Such Measures have earned LA Corporate Limo an "AAA" rating with the Better Business Bureau and multiple service awards for corporate limo services in LA. As a full service corporate transportation company, our goal is to exemplify the highest standards of the corporate travel experience. Let LA Corporate Limo's expertise work for you.
Our chauffeurs are trained to maintain intimate familiarity with the layout, logistical details and surrounding traffic patterns of the airports they serve. Work, read, or just relax as Our Chauffeur makes your ride safe, comfortable and hassle-free. As with all our chauffeured services, you travel in your choice of the finest, late-model luxury vehicles from Our Fleet. We know how important it is to provide business travelers with a reliable chauffeur driven service. Each of our chauffeurs is professional, knowledgeable, discreet, and very familiar with the particular needs of a business traveler. Whether you are entertaining a client with a five-star dinner or escorting your top executives to the airport, partnering with Los Angeles Corporate Limousine will ensure that every impression is a lasting one.